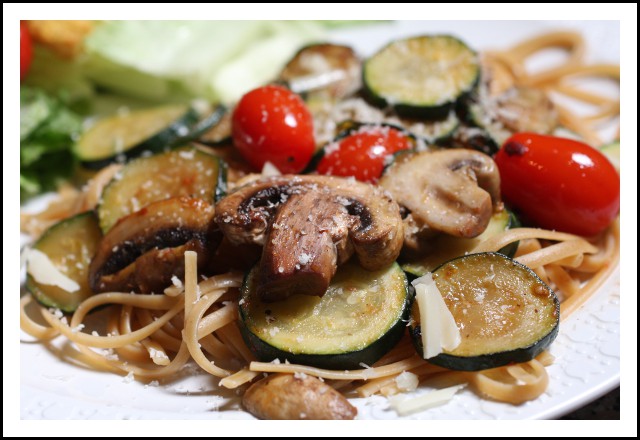 This recipe is from Tony. He whipped this up one day after work and it was delicious. Tony doesn't measure when he cooks so below you will see the ingredients and you can add as much of each one as you would like! Sometimes things are just better that way anyway!
Ingredients:
Zucchini
Grape Tomatoes
Mushrooms
Whole Wheat Linguine Pasta
Garlic
Olive Oil
Parmesan Cheese
In a pan add a little olive oil and two chopped garlic cloves. Then add in the sliced zucchini and mushrooms. After a few minutes add in the grape tomatoes.
Boil the whole wheat linguine and then add the it to the olive oil, garlic, zucchini, tomato, and mushroom mixture in the other pan. Top with some freshly grated Parmesan cheese and enjoy!
[ 189 comments ]
( 12573 views ) |
permalink
|
print article
|





( 3 / 546 )
---
<<First <Back | 1 | 2 | 3 | 4 | 5 | Next> Last>>