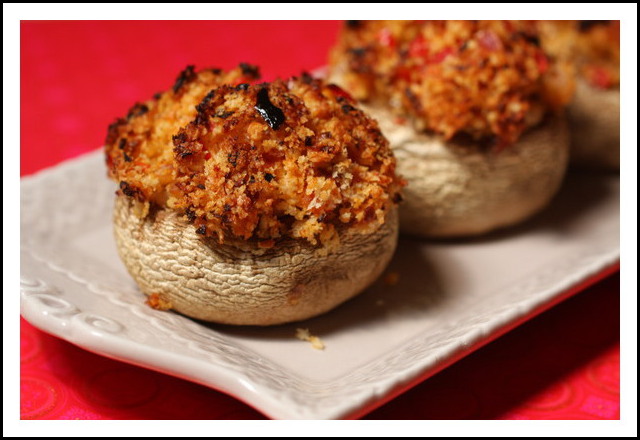 We had been craving stuffed mushrooms for some time. We kind of threw this together with what we had left over from previous meals. They turned out to be very tasty. We ate them for dinner with a spinach salad, but they would also make great party hors d'oeuvres.
6 Large white mushrooms
1 Clove of garlic
1/2 Red onion
1 Red bell pepper
2/3 Cup of Panko bread crumbs
Olive oil
Sea salt
Fresh cracked black pepper
Remove the bottom part of the mushroom. Dice the bottoms along with the garlic, red onion, and red bell pepper and saute in pan with a little olive oil, salt, and pepper. Then add the mixture to a bowl and mix with the Panko bread crumbs. The bread crumbs will soak up the moisture from the garlic, onion, and pepper mixture. With a spoon scoop the mixture into the mushroom caps. Place the filled caps on a cookie sheet and spray the tops of them with a little olive oil. Bake at 350 degrees for 15-20 minutes until golden brown and crispy on top.
[ 81 comments ]
( 12639 views ) |
permalink
|
print article
|





( 3 / 2540 )
---
<<First <Back | 1 | 2 | 3 | 4 | 5 | Next> Last>>