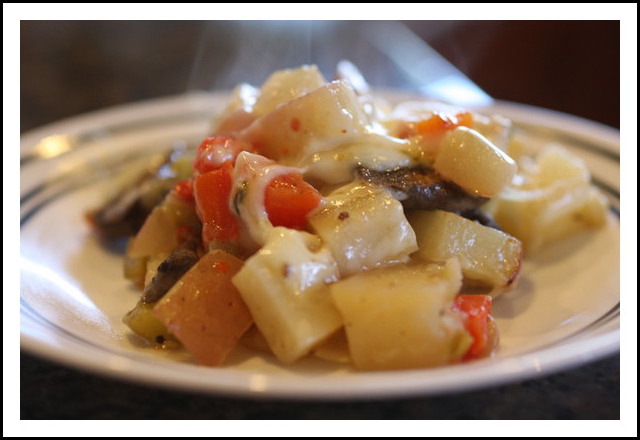 We recently took a trip to St. John's in Newfoundland, Canada. While we were there we ate a lot of comfort food, and that is what inspired this dish. It is a simple dish that can be eaten with dinner, or as a breakfast. It is easy to toss together and you can add in your favorite veggies for a nice comfort dish.
Cubed red potatoes
1 Chopped Red Pepper
1 Chopped Green Pepper
Fresh ground salt/pepper
1/2 yellow Onion chopped
Chopped mushrooms
Pepper Jack cheese
Chop up the potatoes leaving the skin on.
Put into a baking dish along with the chopped peppers, salt and pepper, onion and a little cheese
Add in a little crushed red pepper to give it some heat
Sprinkle some Extra Virgin Olive Oil and mix it all up.
Bake at 350 degrees for a 30 minutes or until potatoes are soft
Once the potatoes are soft to the touch, cover in cheese and cook another 10 minutes
[ 240 comments ]
( 23571 views ) |
permalink
|
print article
|





( 3 / 4751 )
---
<Back | 1 | 2 | 3 | 4 | 5 | Next> Last>>