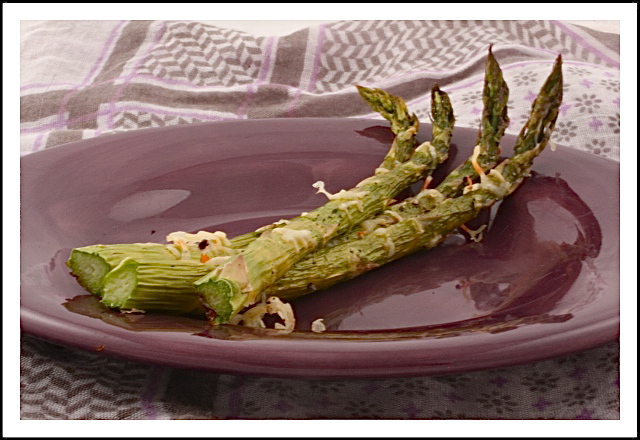 We just received our first Spring CSA basket. It came with a little bunch of asparagus! I am so excited for all of the fresh veg we will be getting in our baskets! This is something quick and easy you can cook up for a snack, lunch, or dinner. It is one of our favorites.
1 bunch of asparagus
Freshly grated parmesan cheese
Olive oil
Sea Salt
Black Pepper
This is a very simple recipe. Use a baking dish, or cookie sheet. Spray the bottom with a little olive oil. Lay all of the asparagus flat on the bottom. Then spray a little olive oil over top of the asparagus. Then sprinkle with little sea salt and fresh ground black pepper. Lastly top with the parmesan cheese. We do not add too much cheese, but you can add as much, or as little as you would like. Then bake at 350 degrees for about 20 min until the cheese is browning and the asparagus are soft, but have a little crisp.
[ 193 comments ]
( 2730 views ) |
permalink
|
print article
|





( 3 / 3377 )
---
<<First <Back | 1 | 2 | 3 | 4 | 5 | Next> Last>>