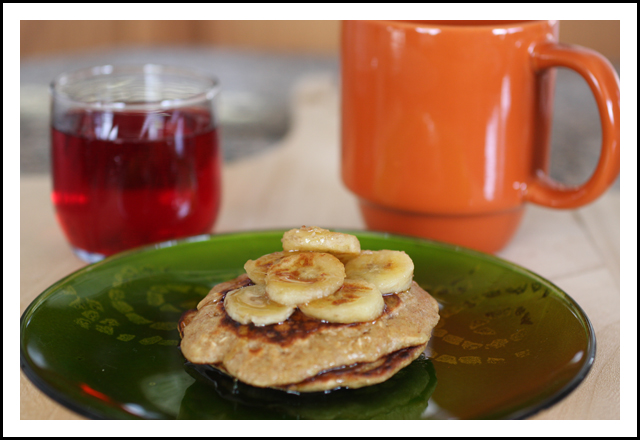 These banana pancakes turned out to be super delicious! I know, super, not
a sophisticated description word, but honestly though there is no other way
to explain them. Maybe you could add a "thumbs up" along with the word
super. Seriously, the combo of whole wheat, oats, and bananas was very
delicious. This is now our go to pancake recipe.
This recipe was adapted from:
http://www.cheekykitchen.com/2010/03/pe ... cakes.html
1 banana
1 Tbs. of butter
1/2 Cup of oats (The real deal, not the quick kind.)
1/2 Cup of whole wheat flour
1 Cup of organic soy milk
1 whole egg
1 tsp of vanilla
1/2 tsp of salt
1/4 tsp of cinnamon
and a dash of nutmeg (cinnamon and nutmeg, just add the amount that you
like)
Topping
Olive Oil
1 Banana sliced.
In a mixing bowl mash your banana, then add the rest of the pancake
ingredients and mix everything together. Then make your pancakes!
For the topping, slice up your banana and set it aside. Spray a pan with
olive oil and put on a low - medium heat. Place your bananas in the frying
pan and cook a few minutes on each side until brown.
[ 64 comments ]
( 5594 views ) |
permalink
|
print article
|





( 3 / 3402 )
---
<<First <Back | 1 | 2 | 3 | 4 | 5 | Next> Last>>