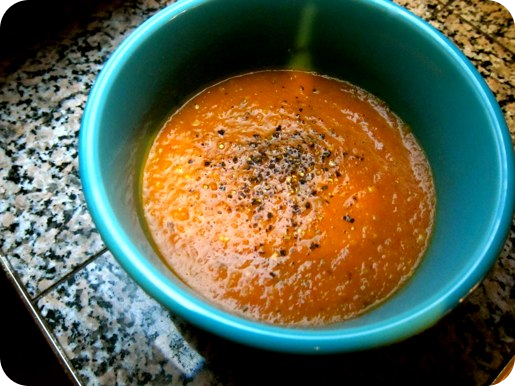 Vine-Ripe Roasted Tomato Soup.
Enough Vine Ripe Tomatoes to fill a baking sheet. (They will be cut in half)
1 bag of cherry or grape tomatoes
1/2 of a large red onion, diced
5 cloves of garlic
Fresh basil leaves
1/4 cup of olive oil
Freshly ground black pepper
Sea salt
1 cup chicken stock (or veggie stock)
Red pepper flakes
Madras curry powder
Cut the vine ripe tomatoes into halves and lay face down on the baking sheet along with the cherry tomatoes, diced red onions, garlic cloves, and fresh basil leaves, then drizzle with about 1/4 cup of olive oil. Then season (use your own discretion) with sea salt and freshly ground black pepper. Bake in the oven for about 1 hour at 400 degrees.
Next, put 1 cup chicken stock in a large pot on stove on the lowest setting. Remove the baking sheet from the oven and let cool for a few minutes. Then put mixture from the baking sheet into your food processor and add another small pour of olive oil. Use the pulse setting on your food processor until the mixture reaches the consistency that you prefer. Once you have the consistency that you like, pour into the pot with the chicken stock. Add a little madras curry power, sea salt, black pepper, and red pepper flakes...season to your taste. Let the soup cook slow on low heat until you are ready to eat. I would recommend at least one hour for all of the flavors to become friends!! Roasted Vine Ripe Tomato Soup.
[ 120 comments ]
( 9336 views ) |
permalink
|
print article
|





( 3 / 2742 )
---
<<First <Back | 1 | 2 | 3 | 4 | 5 |