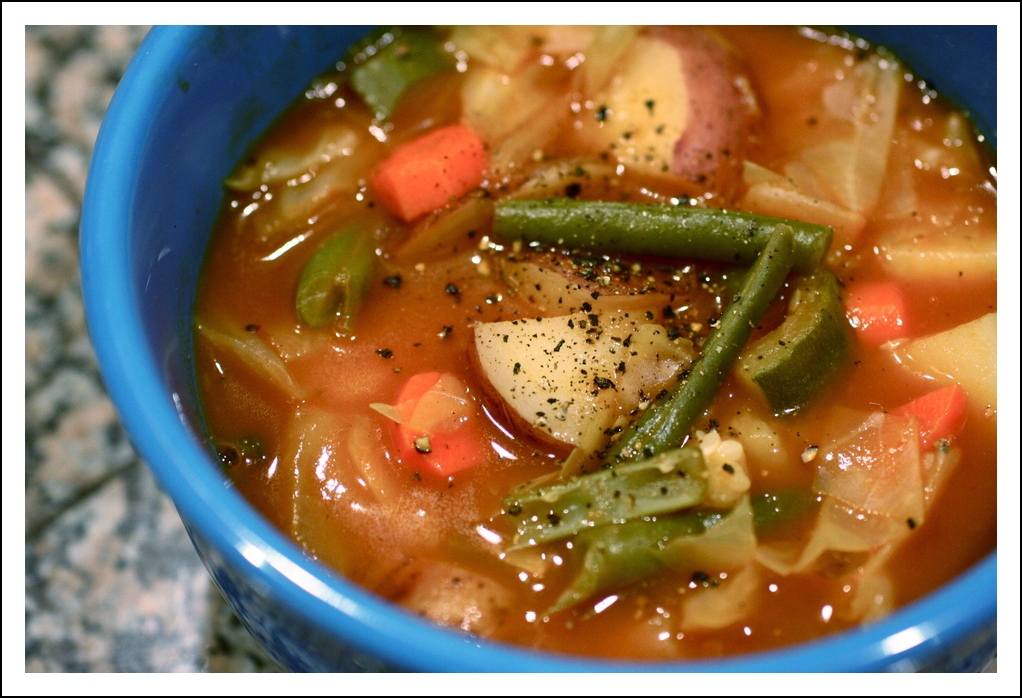 1 whole cabbage
10 small carrots
4 small zucchini
8 red or new potatoes
1 lb of green beans
2 large fresh leaves
2 cans of tomato sauce
3 cups of chicken stock (or vegetable stock)
1 cup of water
Olive oil
Garlic Powder
Chili Powder
Red Curry Powder
Madras Curry Powder
Paprika
Kosher Salt
Fresh cracked black pepper
Red pepper flakes
Circle the bottom of your large pot with olive oil, add chicken stock, water, two cans of tomato sauce, and chopped up basil leaves. Season with fresh cracked black pepper, garlic powder, and dash of kosher salt. Let this stock cook on the stove on low heat while you was and prepare your vegetables.
Next wash your potatoes, leave the skins on and boil in a separate pot until they become tender. Meanwhile, chop the rest of veggies up in equal sizes so they cook evenly and add them to the stock. When your potatoes are tender remove them from the heat chop them up and add them to the stock also. Season to taste with madras curry powder, red curry powder, paprika, chili powder, more fresh black pepper, and for those who like a little spice, a few red pepper flakes.
I let my soup cook for about 7 hours on the lowest heat. Seasoning throughout the day. It was great smelling it all day long! You don't have to cook it for that long though, just until all of the veggies are cooked. Enjoy!
[ 47 comments ]
( 1861 views ) |
permalink
|
print article
|





( 3 / 3616 )
---
<<First <Back | 1 | 2 | 3 | 4 | 5 | Next> Last>>