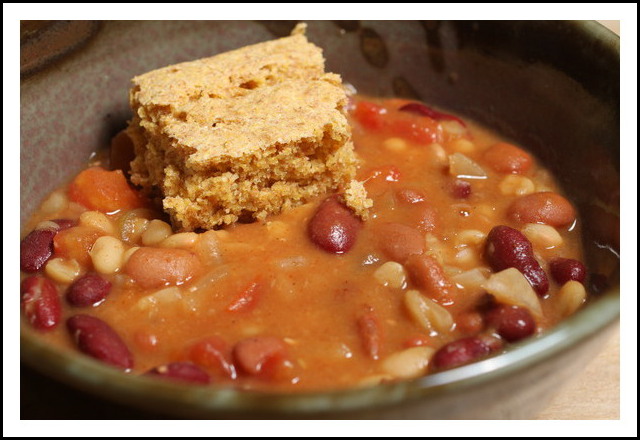 This vegan cornbread is very tasty. You will not miss the eggs and the milk at all. It had a great texture and really complimented our baked beans! I have seen variations using maple syrup to sweeten it up a little. I also think adding some corn to it would make it even better!
1-1/2 cups light soymilk
1-1/2 tablespoons apple cider vinegar
1 cup cornmeal
1 cup whole wheat flour
2 tablespoons raw sugar
3/4 teaspoon salt
1 teaspoon baking powder
1/2 teaspoon baking soda
2 tablespoons oil (we used vegetable oil)
Preheat oven to 425 degrees. In one bowl combine the soymilk and apple cider vinegar and let stand. In another bowl mix all of your dry ingredients. Then add the wet mixture to the dry mixture until blended. Spread the mixture into your pan. We sprayed our pan lightly with olive oil. Bake for 25-30 minutes. This is best served hot.
Recipe adapted from Food for Life, by Neal Barnard, M.D.
[ 72 comments ]
( 4023 views ) |
permalink
|
print article
|





( 3 / 3163 )
---
<<First <Back | 1 | 2 | 3 | 4 | 5 | Next> Last>>