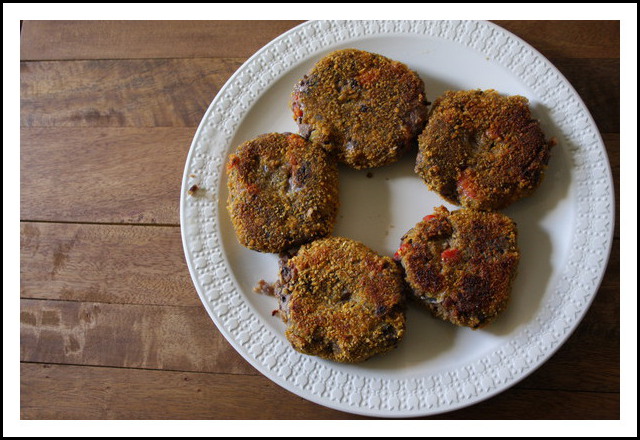 Two 15 ounce cans of organic black beans.
1 Cup of gluten free Corn Flake Crumbs (1/2 cup for beans, and 1/2 cup for breading)
1/2 of one large red onion
1/2 of one large red bell pepper
1/2 Cup of Brown Rice
2 Eggs
Cumin (Season to taste)
Chili Powder (Season to taste)
Cracked Black Pepper (Season to taste)
Sea Salt (Season to taste)
Drain and rinse beans well, and place in a bowl. Using a hand masher, mash beans coarsely. In a skillet, sauté the onions and red bell pepper in the oil of your choice until they are softened. Then add them to the bean mixture, along with 1/2 cup corn flake crumbs and the brown rice. Season mixture with Cumin, Chili Powder, Pepper and Sea Salt. Mixture should be firm. Form the mixture into small patties, about 1/2 inch thick. Place the remaining corn flake crumbs in a bowl, and put the two eggs in another bowl. Dip the cakes in the egg, and then coat them with the corn flake crumbs. In a large skillet using a small amount of oil, cook the black bean cakes until they are warm start to brown on the outside.
We served the black bean cakes over a spinach salad that was made with avocado, corn, and grape tomatoes. Enjoy!
[ 28 comments ]
( 5951 views ) |
permalink
|
print article
|





( 3 / 4802 )
---
<Back | 1 | 2 | 3 | 4 | 5 | Next> Last>>