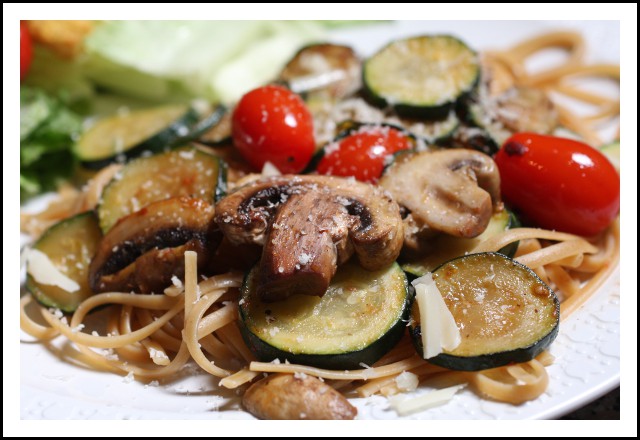 This recipe is from Tony. He whipped this up one day after work and it was delicious. Tony doesn't measure when he cooks so below you will see the ingredients and you can add as much of each one as you would like! Sometimes things are just better that way anyway!
Ingredients:
Zucchini
Grape Tomatoes
Mushrooms
Whole Wheat Linguine Pasta
Garlic
Olive Oil
Parmesan Cheese
In a pan add a little olive oil and two chopped garlic cloves. Then add in the sliced zucchini and mushrooms. After a few minutes add in the grape tomatoes.
Boil the whole wheat linguine and then add the it to the olive oil, garlic, zucchini, tomato, and mushroom mixture in the other pan. Top with some freshly grated Parmesan cheese and enjoy!
[ 189 comments ]
( 12573 views ) |
permalink
|
print article
|





( 3 / 602 )
---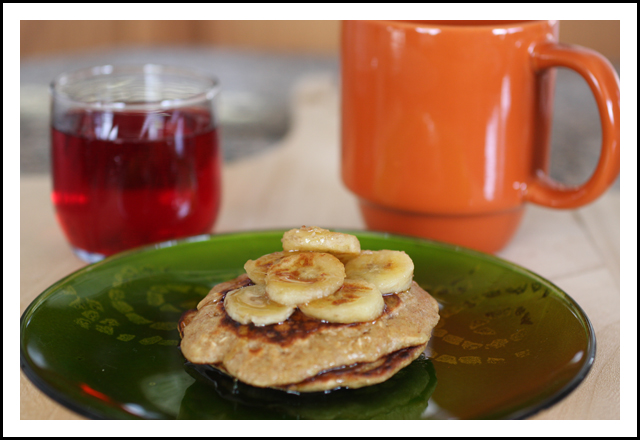 These banana pancakes turned out to be super delicious! I know, super, not
a sophisticated description word, but honestly though there is no other way
to explain them. Maybe you could add a "thumbs up" along with the word
super. Seriously, the combo of whole wheat, oats, and bananas was very
delicious. This is now our go to pancake recipe.
This recipe was adapted from:
http://www.cheekykitchen.com/2010/03/pe ... cakes.html
1 banana
1 Tbs. of butter
1/2 Cup of oats (The real deal, not the quick kind.)
1/2 Cup of whole wheat flour
1 Cup of organic soy milk
1 whole egg
1 tsp of vanilla
1/2 tsp of salt
1/4 tsp of cinnamon
and a dash of nutmeg (cinnamon and nutmeg, just add the amount that you
like)
Topping
Olive Oil
1 Banana sliced.
In a mixing bowl mash your banana, then add the rest of the pancake
ingredients and mix everything together. Then make your pancakes!
For the topping, slice up your banana and set it aside. Spray a pan with
olive oil and put on a low - medium heat. Place your bananas in the frying
pan and cook a few minutes on each side until brown.
[ 64 comments ]
( 5594 views ) |
permalink
|
print article
|





( 3 / 3402 )
---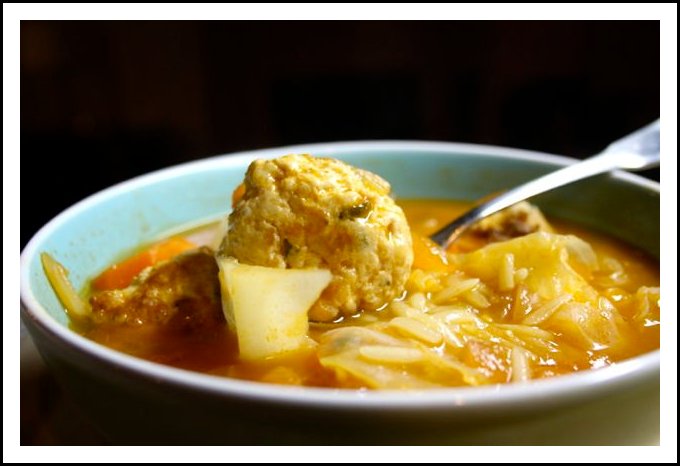 This soup is a nice mix of light and hearty. The broth is rather light, but then you have your hearty meatballs. We used Tony's delicious turkey meatballs for this soup.
Meatballs
20oz Package of ground turkey
1 Cup panko bread crumbs
1/2 Sweet Onion - Chopped
1 Egg - Beaten
Few fresh basil leaves - Chopped
4 Twists of fresh cracked pepper
Put all ingredients into a bowl and mix thoroughly with hands. Then round into golf-ball sized balls in your hand. Grease a large pan with Olive Oil and place all meatballs into the pan over medium heat. Flip and rotate as needed with tongs to get all sides browned and centers cooked.
To make Broth:
5 cups of water
4 teaspoons of Better Than Bullion, All Natural/Low Sodium Chicken Base
5 vine tomatoes
2 large carrots
1/2 sweet onion
1/4 head of cabbage
A few fresh basil leaves
Fresh parsley
Pinch of salt
Fresh cracked pepper
1/3 cup of orzo pasta
You should have your meatballs prepared and cooked first. Swirl the bottom of your pot with a little olive oil and add your broth. We made our broth using water and Better Than Bullion, All Natural/Low Sodium Chicken Base this time. Season it with a little black pepper and let it simmer while you prepare you veggies. We cut the tomatoes up and left them a little chunky for texture, then chopped up the carrots and cabbage and added them to the broth. Next, dice your onion and add it to the pot. We used probably about 4 basil leaves and a little fresh parsley. We chopped them up and added them to the pot. You can add the amount that you would like for your desired flavor. Then we seasoned with a little salt and fresh cracked black pepper. Finally, we added the meatballs and the orzo pasta and brought the pot to a boil and then down to a simmer (right under the boil point) for about 15 min. Then we let cook on the lowest heat until ready to serve.
[ 201 comments ]
( 13772 views ) |
permalink
|
print article
|





( 3 / 3842 )
---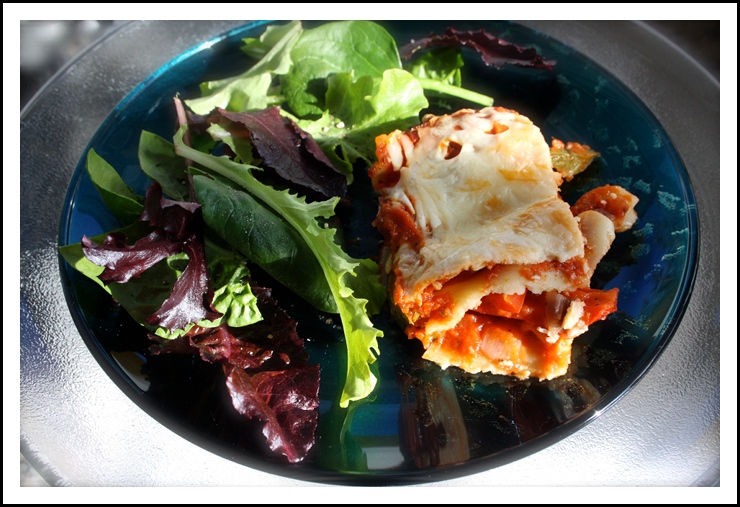 I have been feeling pretty burnt out on meat lately. Those who know me, know it does not always appeal to me. Tony has been wanting lasagna for a few days so I suggested a vegetable lasagna. I decided to roast the vegetables. There is just something about roasted vegetables. Roasting them really brings out some nice flavors. You can add your favorite veggies, and everything in this recipe is more of a suggestion. Also I should mention, we live at 5,000 ft. So your baking times will most likely be different.
15 mushrooms
12 ounce bag of cherry tomatoes
1 red bell pepper
1 green bell pepper
2 small zucchini
1/2 red onion
2 cloves of garlic
1 pkg of whole wheat lasagna noodles
Spaghetti Sauce
Low fat ricotta cheese (small container)
Fresh mozzarella cheese
Olive oil
Sea Salt Salt
Fresh Cracked Pepper
Slice your mushrooms, zucchini, and peppers. Halve the cherry tomatoes, and dice the onion and garlic. Spray (I use an olive oil mister) or spread olive oil on the bottom of a baking sheet. Spread your veggies out on the sheet and spray more olive oil on top of them and season with a little salt and pepper. Place in the oven at 350 degrees and let roast until the veggies are nice and soft.
While your veggies are roasting circle the bottom of a pot with olive oil and fill with water for your noodles. Add a little sea salt to the water and add noodles when it comes to a boil.
Next shred your mozzarella and mix half of it with your ricotta. Once your noodles and veggies are ready you can start constructing your lasagna. You can do that however you would like. Some like it saucy some like it cheesy, some have a very strict way they like to layer, and I do not want to mess with that, haha!
I started with a layer of sauce, then noodles, a little more sauce, then the roasted veggies, and then the ricotta mixture......repeat. I topped it with a little sauce and mozzarella. Bake at 375 degrees, until the cheese on top is bubbly and starting to brown.
[ 58 comments ]
( 16306 views ) |
permalink
|
print article
|





( 3 / 3155 )
---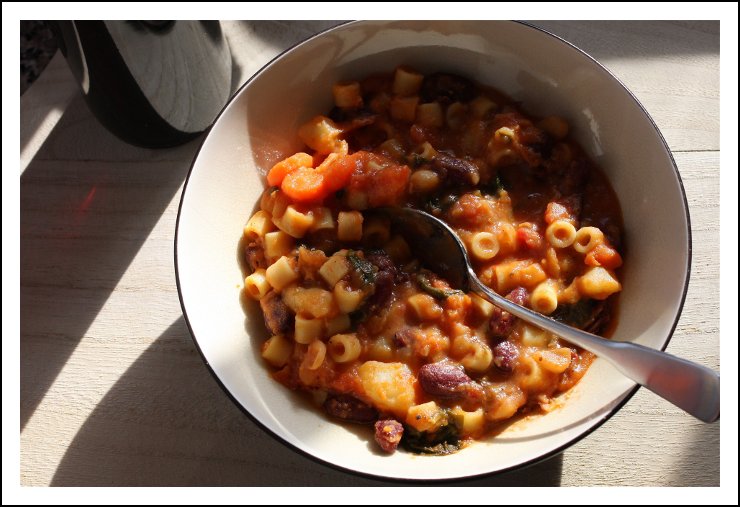 So, enough pretending it is summer with the ice cream. Time for some warm soup again! This minestrone turned out to be very delicious. You can add whatever you would like. This turned out to be a very hearty soup. Perfect for this winter weather!
7 cups of chicken stock
(We used 7 cups of water and Better Than Bouillon, All Natural/Low Sodium
Chicken Base to create the stock.)
1 sweet onion
2 cloves of garlic
3 large carrots
2 Red potatoes
4 vine ripe tomatoes
1 can of diced tomatoes (no salt added)
1 half of 15 ounce can of tomato sauce
3 cups of uncooked Spinach
1 can of Cannellini beans - Rinsed and drained.
1 can of Dark Red Kidney beans - Rinsed and drained
1/2 (maybe a little less than 1/2) box of Ditalini pasta
Season with:
Kosher salt
Fresh cracked black pepper
Red pepper flakes
Madras curry powder
Paprika
Start by simmering your chicken stock on the stove. While it is simmering dice your onions, slice your carrots, crush your garlic, and add them to the pot. Then add the half can of tomato sauce and let the mixture cook on low to medium heat. Next add your diced tomatoes, potatoes, spinach, and beans. Keep the mixture on medium heat until your potatoes start to soften. Then you can turn the heat low and let it cook for as long as you would like. I seasoned the soup with Kosher salt, fresh cracked pepper, red pepper flakes,
a touch of paprika and a touch of Madras curry powder. You can season with whatever you would like to cater to your taste. When you are ready to eat the soup turn the heat back up and bring it to a low boil adding the pasta. You can turn it back down to low when the pasta is starting to get to al dente status. Then continue to cook on low until the pasta is cooked to your liking. We topped our individual bowls of the minestrone with a little shredded parmesan cheese! Hope you enjoy!
[ 87 comments ]
( 3448 views ) |
permalink
|
print article
|





( 3 / 3233 )
---
<<First <Back | 1 | 2 | 3 | 4 | 5 | Next> Last>>