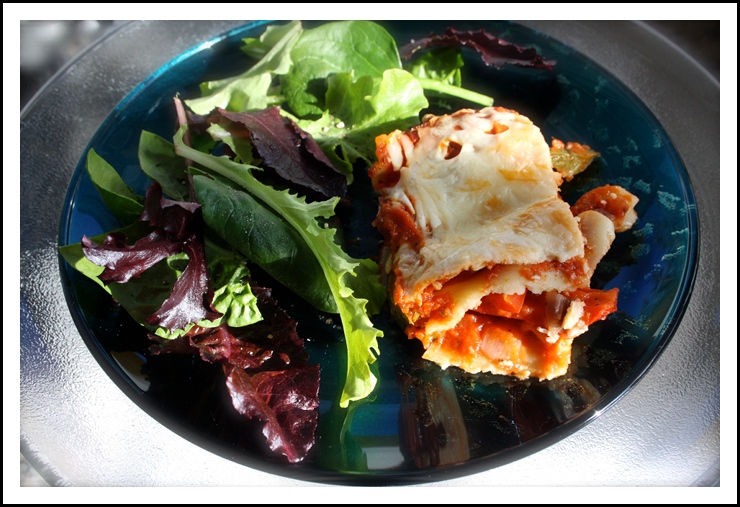 I have been feeling pretty burnt out on meat lately. Those who know me, know it does not always appeal to me. Tony has been wanting lasagna for a few days so I suggested a vegetable lasagna. I decided to roast the vegetables. There is just something about roasted vegetables. Roasting them really brings out some nice flavors. You can add your favorite veggies, and everything in this recipe is more of a suggestion. Also I should mention, we live at 5,000 ft. So your baking times will most likely be different.
15 mushrooms
12 ounce bag of cherry tomatoes
1 red bell pepper
1 green bell pepper
2 small zucchini
1/2 red onion
2 cloves of garlic
1 pkg of whole wheat lasagna noodles
Spaghetti Sauce
Low fat ricotta cheese (small container)
Fresh mozzarella cheese
Olive oil
Sea Salt Salt
Fresh Cracked Pepper
Slice your mushrooms, zucchini, and peppers. Halve the cherry tomatoes, and dice the onion and garlic. Spray (I use an olive oil mister) or spread olive oil on the bottom of a baking sheet. Spread your veggies out on the sheet and spray more olive oil on top of them and season with a little salt and pepper. Place in the oven at 350 degrees and let roast until the veggies are nice and soft.
While your veggies are roasting circle the bottom of a pot with olive oil and fill with water for your noodles. Add a little sea salt to the water and add noodles when it comes to a boil.
Next shred your mozzarella and mix half of it with your ricotta. Once your noodles and veggies are ready you can start constructing your lasagna. You can do that however you would like. Some like it saucy some like it cheesy, some have a very strict way they like to layer, and I do not want to mess with that, haha!
I started with a layer of sauce, then noodles, a little more sauce, then the roasted veggies, and then the ricotta mixture......repeat. I topped it with a little sauce and mozzarella. Bake at 375 degrees, until the cheese on top is bubbly and starting to brown.
[ 58 comments ]
( 16306 views ) |
permalink
|
print article
|





( 3 / 3155 )
---
<<First <Back | 1 | 2 | 3 | 4 | 5 | Next> Last>>