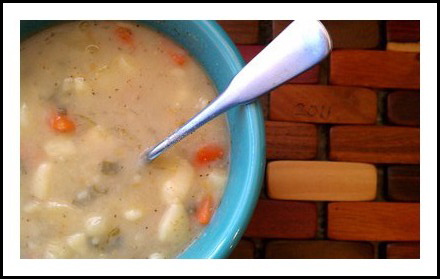 We were recently invited to an Oktoberfest potluck. I was really excited to make Kartoffelsuppe or German Potato Soup. I have made milk or cream based potato soups a lot in the past. This time I made a broth based soup instead. The soup was much lighter, and that made it all the more enjoyable for 80 degree weather! I ate the leftovers the next day. Let me tell you, this soup is even better the second day!
1 Quart of Chicken or Veggie Stock.
15 Small gold potatoes (Yukon Gold)
1 Large yellow onion
4 Carrots
10 green onions (we just used one small bundle)
First start heating the chicken stock in a large pot. Then boil 4 of the potatoes in a pot till they get very soft for mashing. While the potatoes are boiling, go ahead and saute the yellow onion in butter or your choice of oil. Once the potatoes are soft, mash them by hand or with a mixer, and add them to the stock pot along with the sauteed yellow onions. This will give the soup a nice texture. Dice the remaining potatoes, carrots, and green onions, and add them to that pot. Season the soup with sea salt, and black pepper. Let it cook slow and low until the carrots and potatoes are soft. Serve hot, and enjoy!
[ 188 comments ]
( 2679 views ) |
permalink
|
print article
|





( 3 / 5150 )
---
<Back | 1 | 2 | 3 | 4 | 5 | Next> Last>>